Konventum is a modern hotel and conference centre with an exciting history in relation to Danish design, art and architecture. It is set amidst a 300.000 sq.m. park located in beautiful, natural surroundings by the sea on the Danish Riviera with a magnificent view of Øresund (the sound) and Sweden.
Konventum was built in 1969 and has since received international acclaim for its unique architecture. The different levels, charming atriums and unique rooms within the building tells the story about architects with courage as well as idealism and a vision about building something extraordinary. Honest, straightforward architecture is dominant everywhere and is expressed with few, rustic and robust materials by way of well thought out, simple and sophisticated solutions. Wood, concrete, tiles and bricks dominate. With its consistent architectural expression, visible construction and white walls, Konventum stands as a unique building of high international class.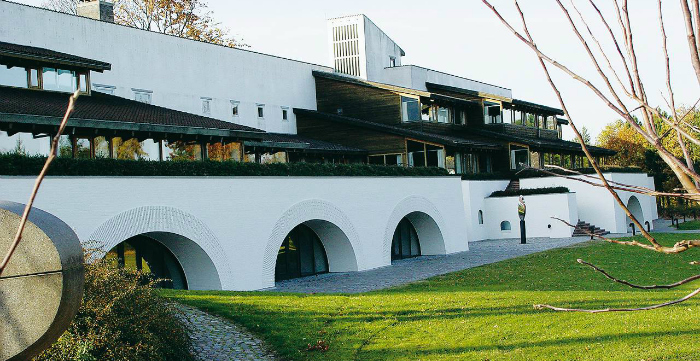 Konventum also owns Denmark's largest private art collection with over 1,200 unique modern works of art from the 1950s to the present day. Over 100 Danish artists are represented, amongst others Jorn, Kirkeby, Trampedach, Hornsleth, Heerup and Malinovski – and new artists are being added all the time. In all the rooms, you will find original art; Paintings, gouaches, watercolours, graphic art or sculptures. Art is to be found as an integral part of the environment of the building and fellowship, indoors as well as outdoors, as decorations on ceilings, stairways, floors and walls.
If you wish to stay at conference venue, Konventum, for the duration of the General Assembly, please ensure that you book your room as soon as possible. Book here
Other hotels
Hotel AXEL Guldsmeden
Hotel Axel Guldsmeden is a two-minute walk from Copenhagen's Central Station in Vesterbro. All Guldsmeden hotels are run according to guidelines for sustainability, and all food & drink are certified organic. Axel Guldsmeden has 125 rooms. Please note that this hotel is located 45 km away from the conference venue. Book here 
Beach Hotel Marienlyst
Beach Hotel Marienlyst is the largest seaside hotel in Denmark and it is located in Helsingør (Elsinore), only a 10-minute stroll from Kronborg Castle and a 5-minute taxi drive to Konventum (conference venue). Book here