Helsingør 
The Cooperatives Europe General Assembly Meeting will take place at conference venue, Konventum, in Helsingør famous for its castles, unique scenery and world class art. Helsingør (Helsinore) is most famous for Kronborg Castle: Home of Shakespeare's Hamlet and host of the Shakespeare Festival every summer. Kronborg faces Øresund (the sound) between Helsingør and Helsingborg in Sweden which forms the Danish–Swedish border, separating Zealand (Denmark) from Scania (Sweden). Øresund is 4 kilometers (2.5 mi) wide at its narrowest point between Helsingør in Denmark and Helsingborg in Sweden, so from Helsingør you also get a great view of the Swedish coastline. In 2000, Kronborg Castle became a UNESCO World Heritage Site.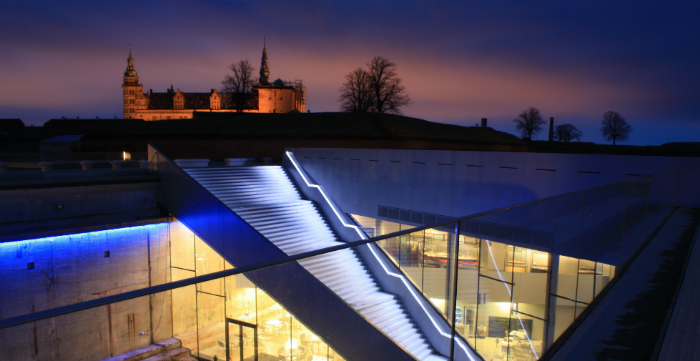 Kronborg Castle and the Maritime Museum, Helsingør. Photo: Thomas Høyrup Christensen, Copenhagen Media Center
The old town centre is charming with ancient cobbled streets and bourgeois houses and is one of Europe's best preserved historical town centers. Also worth a visit is The Maritime Museum of Denmark which tells the story of Denmark as one of the world's biggest seafaring nations from the 15th century until today. At The Maritime Museum of Denmark you will experience a piece of iconic architecture, as it is built below ground around an old dry dock in front of Kronborg Castle, where uneven floors and irregular angles give you the experience of being on board a real ship. The award winning architecture is designed by the internationally renowned architects from BIG – Bjarke Ingels Group.
Helsingør is also a key point to neighbouring attractions: Renaissance castle Frederiksborg, the Baroque Garden, and Fredensborg Castle, the summer residence of the Queen of Denmark and the royal family.
Also, a short train ride from Helsingør (departs every 20 minutes) takes you to the Louisiana Museum of Modern Art (works by Picasso and Warhol) and to Rungstedlund, home of Karen Blixen (a.k.a. Isak Dinesen). Helsingør is just 45 km from Copenhagen.
Copenhagen
There is a lot to be seen in Copenhagen and its surrounding areas. Copenhagen is a wonderful mixture of old and new; it is a royal city and home to the world's oldest monarchy and at the same time it is a vibrant, modern and green city with innovative architecture, design and world-renowned cuisine.

With a history that dates back to 1043, the city is full of historic landmarks, significant buildings and interesting sights and museums. For instance Christiansborg Palace (the parliament) and the adjoining Royal Library Gardens and not least the picturesque Nyhavn are all worth a visit. From Nyhavn you can go on a boat tour and explore the charming canals and at the same time see the city's main sights, as you enjoy Copenhagen from the water front.

Most of Copenhagen's most popular attractions and sights are within walking distance. You can also choose to see the sights by bike and at the same time experience Copenhagen like a local. Copenhagen has one of the world's most dedicated bike cultures. In fact, the city has more bicycles than people. We bike to work, to school, to bring the kids to kindergarten, to shop for groceries and to social gatherings. It is simply our way of life. Copenhagen is covered by 350 km of cycle paths and lanes which are raised from the road. If you are planning to take a bicycle trip around Copenhagen, do not miss out on Copenhagen's iconic cycle bridge and also an architectural masterpiece, The Bicycle Snake. It connects the city and transports cyclists across the harbour on an aesthetic ride above the harbour basin.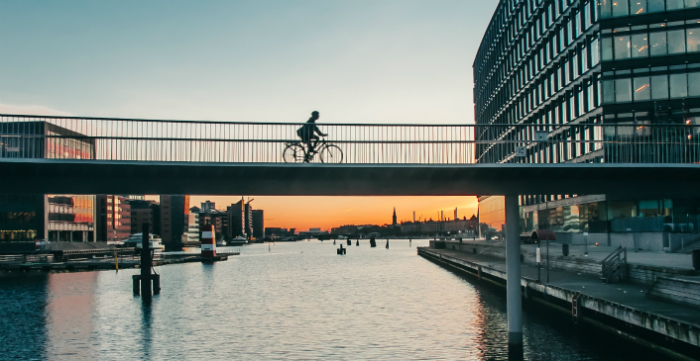 Snake Bridge, Copenhagen. Photo: Thomas Høyrup Christensen; Copenhagen Media Center
Welcome to Denmark!
These websites can help you plan your visit to Denmark and Copenhagen: 

Visitcopenhagen.com 
Visitdenmark.com 
Visitnorthsealand.com